Latest 'Ramblings', Newsletter from Waltham Chase Meet
Waltham Chase Ramblings March 2021
Good morning, this is a 'late' Ramblings' I know I normally try and get them out a week before our normal 'second Sunday' each month, so for this one I decided to wait until the magic 22nd Feb 2021 to see what Boris would come up with.
I think in reality it means we will, unless it all kicks off again, see a meet on the second Sunday of July, the 11th. Let's hope the socialising between now and then, that in Sept last year went berserk allows Boris and his team to actually release us from any sort of Lockdown! It's not set in stone that the 21st June is THE DAY.
I donít know about you but I have had little or no use of the Landies other than an occasional round the block to stir up the oil, warm the water and prevent things from seizing up. The Cream Series 3 had an MOT in January but thatís it.
Enough from me this next bit is from Terrence Cleife
Hi Pete
Thanks for keeping us all amused with your Ramblings throughout the year. When the dust settles after all the Christmas hype, a lot of people make plans for the coming 12 months and some tend to reflect on former times, especially those of us with a lot of miles on the clock.
Whilst thinking back as far as 1959 when I started working life aged
16 and a half as an apprentice motor mechanic, it became obvious that a lot of change has taken place not only in the motoring world but in society also. For example, fewer young people went to university in those days and opted to make their way in the real world with a job and an independence that required some form of transport.
A pre-war "banger" that nobody wanted was a common introduction to motoring in the 50's and 60's, often insured with the cheapest broker for third party only. Austin 7's were a popular choice and could be bought for £5 or less. I started with a Morris 8 van costing £2.10s
(£2.50p) The 10 year MOT test was only just starting to be set up and there was no upper speed limit or requirement for seat belts. Radial tyres existed but cross ply tyres were still very common even on new cars.
It was in fact the age when most people wanted an affordable new car like a Mini or Ford Anglia. Enthusiasts who defied the trend were therefore handed the best possible chance to pick and choose from a range of exotic old vehicles for very little money. They were the sort of cars that investors now climb over each other to own at staggering cost. Publications such as "Motor Sport" and "Autocar" were full of adverts offering pre-war Alfa Romeos, Bugattiís, Bentleys and the like at prices so low relative to average earnings that it now seems like a fantasy. These cars are unlikely to ever be owned or driven by those coming later on to the scene and a lot of younger people probably wouldn't want them anyway.
It is tempting to look back on those times through rose tinted glasses but there were a lot of minus points. The mere act of buying and selling a vehicle was nowhere near as easy as today with the convenience of the internet. An advert was usually put in a shop window or taken to a news agent who took the money and phoned the words to a newspaper. If a photo was wanted (taken on film that had to be sent away for processing) it then had to go to a magazine for publication, causing another delay of a month or so. If there was no sale it all had to be paid for again. None of it was free or fast.
Mobile phones didn't exist either so a land line had to be found to call a rescue organisation in the event of a breakdown out in the wilds a stranded motorist relied on the good nature of other motorists and to be fair, help was generally offered by somebody. As a former MG owner I recall other MG drivers would wave as we passed on the road and it would be unthinkable for any of us to leave a fellow owner stranded. I'm sure that a similar spirit exists today among true enthusiasts, including those in the Waltham Chase group, so perhaps some sections of society haven't change much after all.
Regards, Terry Cleife
The waving is definitely carried on in my case, particularly with Land Rovers of the series and Defender styles. The later Land Rovers, Discovery etc. donít seem to bother.
The next bit is from Jeff Bird
Hi Peter,
Hope you are well and looking forward to the great "get out of lockdown with Boris" scenario.
I am slowly moving forward with the Haflinger rebuild.
I did have a question with regard to getting a hood made for the front cab area.
Can you recommend any one in the area locally to me (Lee on Solent) There are a couple of yacht covers makers that might take it on.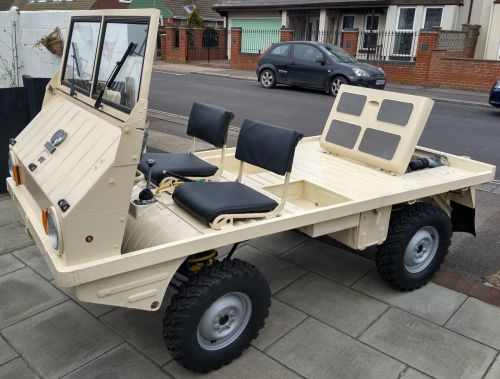 Kind regards,
Jeff Bird.
Also the latest picture of my Haflinger. Yet to make and fit the "roll bar" frame.

Looking good Jeff, I have passed a couple of upholsterers details on to Jeff but if you have any suggestions please let me know.

And another gem from Terry
Hi Pete
That was shocking to hear about the £200 fine levied on the Land Rover occupants under covid rules. The lesson to us all is surely to have a reason that can't be challenged if we do go out, and to use the least conspicuous vehicle.
Thinking of the days when we could all go out, providing the tyres had at least some tread and the tax was in the post, I have a Scale of Maximum Charges for work at Ford dealers on Thames 5cwt and 7cwt vans.
It is dated 11th June 1956 and prices are pre decimal.
Note that Schedule 214 suggests a maximum of £1-18s (£1 -90p) for a complete engine change. I recall that in 1959, a fully Ford recon engine for these vehicles cost £30. Might be worth trying it on at the next visit to a Ford dealer. Or maybe not.
Regards Terry Cleife
Well that a short bit just to keep us all in contact, Donít forget some of you are busy with your projects and those of you who are not in the local clubs, SHVPS and Allsorts to name just two are interested in your projects so please send them in to me for the next Ramblings towards the end of March.
All the best to you all, in spite of 'the jab' keep safe.
Pete Y